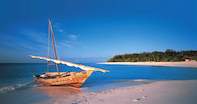 There's something so exotic about the name Zanzibar that the uninitiated might conclude it is not a real place at all, but simply a name from a fairytale of the east, or the thousand and one nights.
But Zanzibar is indeed a real place - Or rather places. For Zanzibar is actually the name given to a cluster of islands that nestle in the waters of the Indian Ocean just off the coast of mainland Tanzania, East Africa.
The two principal islands in the group are Unguja, also known as Zanzibar Island (just to confuse you further) and Pemba. Smaller islands are scattered around these, which range from mere sandbanks to those with their own ethnic grouping and a fierce sense of identity.
It's a travel agent's cliché, but Zanzibar really does have something for everyone. If your idea of heaven is to lie on the most perfect of perfect beaches, undisturbed by anything more than the occasional hermit crab, you'll find tiny, abandoned coves where you can forget the rest of the world exists, and stir only to flop into the bath-warm sea.
But if lying immobile on the beach fills you with horror and your burning desire is for colourful local traditions, crumbling picturesque ruins and dim, fascinating markets, Zanzibar has all this in spades, too.
And if, like most of us, you'd prefer a bit of both, the small size of the islands and proliferation of places to stay in all price ranges makes Zanzibar the ideal destination for touring. For water sports enthusiasts, the coral reefs and open sea between Zanzibar and Pemba are justly famous for the quality of their snorkelling, diving and big game fishing.
Read more about travelling to Zanizbar in our Zanzibar Travel Guide articles.