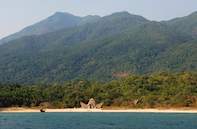 Mahale Mountains National Park is situated in West Tanzania south of Kgoma town. Mahale borders Lake Tanganyika - the world's longest, least polluted and second deepest lake in the world.
The Mahale National Park is home to approximately 900 of Africa's last remaining wild chimpanzees. Tanzania's Mahale Mountain National Park offers a diversity of activities.
The Mahale chain of mountains is home to unique flora and fauna, chimpanzees, the beach alongside Lake Tanganyika with local fishermen. In the rainy season the views across the lake are often filled with majestic lightning storms that light up the water.
The Mahale Mountain National Park is accessible throughout the year. The dry season - May to October is the best time to visit Mahale. Chimpanzees are seen in large groups and from the beach, fish are illuminated in the crystal blue water.
The variety of safari options in the Western Tanzania area are all unique.
See Mahale Mountains National Park safari lodges and Lake Tanganyika accommodation below.