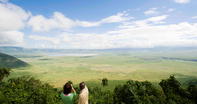 Ngorongoro Crater is the main highlight of the Ngorongoro Conservation Area in Tanzania. Considered to be the 8th natural wonder of the world, the Ngorongoro Crater is a geological phenomenon of unparallel proportions.
A UNESCO World Heritage site since 1979 and one of Africa's greatest conservation areas, the flat, open plain within the immense caldera of an extinct volcano contains a population of approximately 25,000 large animals including the highest density of mammalian predators in Africa, which live permanently in the crater.
The Ngorongoro Crater was formed when a giant volcano exploded and collapsed on itself some two to three million years ago, creating a nature enclosure measuring is 610 m deep and a floor which covers an expansive 260 km.
Within this crater lies every type of ecosystem, including ravine forests, open plains, freshwater and alkaline lakes which attract a number of wildlife and Africa's Big Five which can be seen on a Tanzania safari.
See recommended Ngorongoro Crater safari lodges, tours and safaris in Tanzania below.