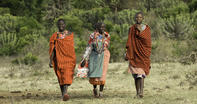 Tanzania fulfils all dreams of Africa, with jungles and primates, wildebeest migrating across rolling grass savannahs, tropical beaches and even a snow-capped mountain.
With almost a quarter of the country set aside for reserves, Tanzania is one of the best game viewing countries in Africa.
The most significant geological feature that has helped create these perfect wildlife conditions is the Great Rift Valley that sweeps through East Africa.
Visible from space, the rift valley sustains life with is rich volcanic soils, large flowing rivers and enormous lakes of which Lake Victoria (the largest in Africa) and Lake Tanganyika (the deepest in Africa and longest in the world), both lie partly in Tanzania. The northern landscape is pitted with twenty large (mainly dormant) volcanoes including Mt. Kilimanjaro and Ngorongoro Crater.
Tanzania Safari Destinations Guide
Northern and Southern Safari Circuits
The Northern Safari Circuit of Tanzania contains the most famous parks and the highest number of visitors. In the Serengeti you can witness a million wildebeest and zebra migrating across the savannah, and a veritable 'Garden of Eden' in the Ngorongoro Crater.
Tarangire's wide savannah grasslands and density of game is a well-kept secret of the area and Lake Manyara's pink flamingo shores are a feast for the eyes.
To the South Selous and Ruaha Reserves offer outstanding wildlife encounters away from the mainstream. In the west is the remote Katavi National Park with buffalo herds several thousand strong, and the Mahale Mountains National Park is like entering a Tarzan movie complete with chimpanzees, dangling vines and a lodge named 'Greystoke'.
Human Evolution
East Africa has been called the 'Cradle of Mankind' with early hominid footprints discovered in Tanzania dating back an estimated 3.5 million years. The famous Leakey family also found a 1.75 million-year-old Homo habilis skull in Olduvai Gorge near Ngorongoro, which fuelled the 'Out of Africa' theory of evolution that states that modern man developed here in Africa.
The Beach
Zanzibar's Swahili culture and rich history enhances the island's main attractions of tropical beaches and fabulous scuba diving. It is also the perfect place to 'chill out' after a busy safari.