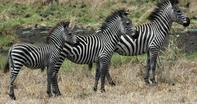 Mikumi National Park adjoins the northern section of the Selous National Park. The park is the fourth largest wilderness area in Tanzania and is part of the largest tract of wilderness - 47 000 square kilometer - in Africa.
A good surfaced road connects Mikumi National Park to Dar Es Salaam, making it a great Tanzania safari destination.
The drive from Mikumi National Park to Dar Es Salaam is approximately 4 hours. There are also charter flights to the area in the dry season. One of the most famous part of the Mikumi National Park are the Mkata flood plains. Game is abundant and there are over 400 recorded bird species.
Antelope sightings are excellent, particularly Eland, the world's largest antelope. The game drives and walks are very productive. Mikumi is accesible year round. The accessibility and abundant game offer excellent Mikumi National Park safaris in Tanzania.
See Mikumi National Park Safari Lodges in Tanzania