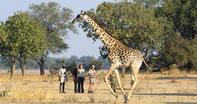 More than just the conventional wildlife safari, Zambia safari tours offer a wide range of high-action activities.
From the legendary Zambia walking safari deep in the wilderness, there is also world-class river rafting, the world's highest bridge bungi jump into the gorge below the falls, abseiling, canoei safaris down the Zambezi, river surfing, excellent tiger fishing and breathtaking sunset river cruises.
Best Zambia Safari Destinations
South Luangwa National Park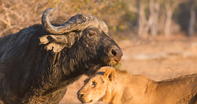 South Luangwa National Park lies approximately 700km (434.9 miles) north-east of Lusaka. It is most easily reached by air - Zambian Airways has regular flights to South Luangwa Airport, which is situated about 20kms (12.4 miles) south of the main gate. The park covers an area over 9050 sq kms and is regarded as the finest wildlife sanctuaries in Africa, which a wide variety of wildlife including an abundance of Elephant, Hippo, Buffalo, Black Rhino, Zebra, small herds of Cooksons's Wildebeest, Leopard, Lion, all varieties of Antelope, and numerous species of birdlife including the spectacular ones such as; Crested Crane, Saddle Bill Stork, Wood Ibis, Vulture and Egret.
South Luangwa National Park is unique in that it offers walking safaris, which provides the visitor with the opportunity of close up photography and the chance to study the flora. Walking safaris can be arranged from most of the lodges and camps and should be undertaken with an experienced and armed wildlife scout.
The walking tours can vary in length from 8 days to 3 days, with a camp with all amenities being pitched each night in a suitable area. Many of the camps will also offer night time game viewing, when the nocturnal animals can been spotted, including Jackal, Leopard, Serval, Antbear, Civet, Wild Cat, Bushbaby. Night time tours usually last 2 hours.
Visit Mfuwe Lodge in South Luangwa which boasts a unique elephant migration right through the reception area!
North Luangwa National Park
North Luangwa National Park is less well-known that its southern counterpart, but is still one of Africa's most spectacular. It is remote and covers an area of 4,626 square kms and no roads or permanent lodges have been built with only a select number of operators being licensed to take safaris into this exclusive park. You need to book to enter this park. It offers a unique experience for those seeking a truly, off the beaten track experience.
Walking safaris are a speciality, allowing visitors to get close to the wildlife in its natural environment. North Luangwa is primarily a woodland park and is well known for its huge herds of Buffalo which congregate at the river to drink. Other mammals seen in the park include Leopard, Wildcat, Elephant, Hyena, Wildebeest. Also found are Oribi, Hartebeest, Reedbuck and Eland (the largest antelope) and not found in the South Park.
Kafue National Park Safari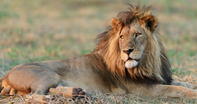 View Kafue National Park Safari Lodges in Zambia One of Zambia's most scenically beautiful parks, lies approximately 200kms west of Lusaka and covers over 22,000 square km. It can be reached by car from Lusaka and the Copperbelt via Mumbwa and from the south of Lusaka via Kalomo. Night driving is not permitted in the park so ensure you time your journey right. Many private operators and charter companies fly into the park. Kafue National Park is the third largest park in Africa and one of the top 5 largest in the world.
The park has over 40 species of wildlife including, Elephant, Buffalo, Zebra, Kudu, Sable and Roan antelope, Lion, Leopard, Hyena, Hippo, Crocodile. It also boasts a small, rare antelope, the Lechwe, almost extinct due to poachers and now found mostly on the Busanga Plains. Kafue National Park birdlife is spectacular with and more than 400 varieties of bird life, concentrated on the flood plains and river banks.
The Kafue River, which winds through the park offers good game fishing. Best from May to October as is the Lower Zambezi. Ideal road travelling months are April to September as the heat is at it's most bearable.
Mosi-oa-Tunya National Park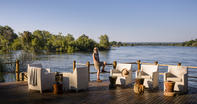 Zambia's smallest National Park covering an area of just 66 square kms, located approximately 450kms (279.6 miles) south of Lusaka. The name has been given by the local people and means the smoke that thunders. Mosi-oa-Tunya National Park is divided into 2 sections, showing off one of the great natural wonders of the world, Victoria Falls and the other section the game park which lies further west along the riverbank.
From the park entrance a network of paths lead through thick vegetation to various viewpoints of the falls. You can get a panoramic view of the falls from the Knife Edge footbridge, which spans a narrow ridge of rock between mainland and an island downstream where you face the falls. Other good viewing points are Falls Bridge, Boiling Pot, the Power Station and the various gorges. the Falls are particularly magnificent on a moonlit night.
The game park, north of the Maramba River is best known for its Giraffe, but also contains sale, Eland, Wildebeest, Lechwe, Impala, Warthog, Baboon and Monkey. Elephant sometime migrate to the Zambian side from Zimbabwe in the height of the dry season.
Victoria Falls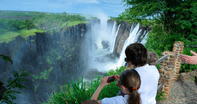 At their most spectacular between April and May after the rainy season but often the spray is so thick it is difficult to see the full width of the Victoria Falls. To appreciate the magnificent rock formations and gorges, it is just as interesting to come when the water is low at the end of the dry season from October to December well worth attending.
Zambia may not offer the best view of the Victoria Falls, but there is a wealth of activities available, from gentle canoe trips, to raging white-water rafting. There is a self guided Zambezi River walk, among potentially dangerous game such as elephant and buffalo, which is one of the most unique walking experiences in Africa.
Zambia Safari Experiences
Choose from a range of Zambia Safari Lodge accommodation to suit your individual needs during your Zambia safari, from luxurious lodges to wonderfully authentic bush camps. Experience the warmth of Zambian hospitality and leave with unforgettable memories. Enjoy a range of safari activities that allow you to have the best possible wildlife experience.
Top 5 things to do and places to see
Look forward to a range of unforgettable safari activities, from guided bush walks to game drives led by expert guides. Or do a tour of Victoria Falls followed by a sunset river cruises. Treat yourself to a safari by canoe. Bungee jumping and white water rafting are here for the truly adventurous.

Day game drives in open 4 x 4 safari vehicles
Go on sunset cruises along the Zambezi River
See the mighty Victoria Falls
Go on an Elephant Back safari
White River Rafting