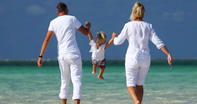 Thinking of Africa as a destination for a family holiday? Choose from thrilling family safaris or family beach holidays in Africa.
Family holidays are special. A holiday that allows you to spend time with your loved ones will always make for the most cherished memories that last a lifetime. A holiday with your children can sometimes prove to be challenging, but if you pick the right destination with the right accommodation, it can prove to be one of the best holidays for everyone. Travelling with your family within Africa is undoubtedly a unique experience that no one will forget.
Worried about malaria and disease? Fortunately, there are malaria free safaris that will not require any medication before coming or during your stay. Family safaris help children learn more about their beautiful world through real life experiences, while bonding with you and Mother Nature.
Another option for your children to experience more of Africa's beautiful natural environment is to opt for a family beach holiday. The whole family can explore some of Africa's pristine coastlines in a fun and safe environment.
Go hunting for treasure, take snorkeling lessons with the kids or have them entertained by the facilities' amazing fun centres. There are many reasons why a family holiday in Africa should not be overlooked, with today's sophisticated and modern accommodations it can make for the perfect carefree holiday you always dreamed of.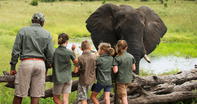 A Family Safari offers a variety of activities to keep all entertained while learning about wildlife. While adults enjoy spotting the Big Five, there are special game drives tailored just for younger kids. Many lodges and parks include a variety of fun packed educational tours and activities such as tracking, learning about animals, campfire storytelling and arts and crafts sessions.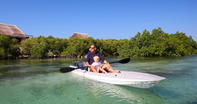 A family beach holiday in Africa allows your whole family the opportunity to learn more about Africa's diverse marine life. Beach holidays include marine safaris, snorkeling lessons, treasure hunts, picnics within safe natural environments while having fun in the sun.