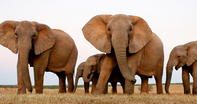 An African safari is a must-have experience that will create lifelong memories. Choose from different types of African safaris.
The African Safari is more than a destination; it is a life experience. Regardless of how you choose to explore this untamed wilderness, it will ultimately change the way you see the world forever. The experience is a humbling one, where man and nature come face-to-face in the wild plains of the African Bushveld.
African safaris are arranged specifically to ensure the safety and well-being of both traveller and the environment, making this an excellent option to get the best possible experience to witness big game in their natural surroundings.
There are no rules out in the African wilderness, so chances of unexpected surprise is always around the corner. This is just part of what makes the African Safari the exhilarating experience it is, while exploring and discovering more about our planet under our beautiful African sky.
Finally tick off that long-dreamed-about African Safari from your travel bucket list, by choosing one of these styles of safari. Whether this is your first time in the continent of Africa or fifth, our safari experiences will offer visitors something new to discover and experience.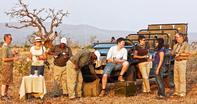 The Classic African Safari offers an authentic wildlife safari experience for first time travellers to Africa wanting to get the best opportunity of witnessing all the big game. Experienced guides will inform and take you to the best spots in the bushveld while you learn first hand about the marvellous nature around you, while staying in comfortable safari lodges.
View Classic Safaris in Africa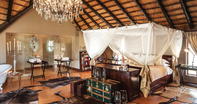 Experience your Luxury African Safari in the utmost style and sophistication without compromising the natural beauty and majesty of the African bush. After a day of game viewing, return to a luxury safari lodge with 5 star facilities, excellent cuisine and superior personalized service.
View African Luxury Safari for the Discerning Traveller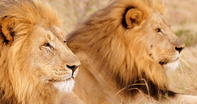 The Big Five Safari is orientated around giving you the best possible opportunity of sighting Africa's infamous Big Five wildlife in their natural habitat. You will be taken to animal sighting hotspots that have the highest chance of witnessing elephant, lion, rhino, leopard and buffalo. Seeing these mighty creatures up close is a life changing experience.
View Big Five Safari in Africa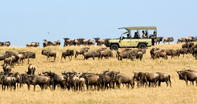 The Great Migration is an enthralling game viewing experience in East Africa. Visitors will be able to witness over 1 million animals as their herds migrate across the majestic Serengeti and Masai Mara plains. Our Destination Specialists will advise you when the best time of year is to witness the Great Migration. These safaris offer amazing wildlife viewing opportunities throughout the year.
View Great Migration Safaris in East Africa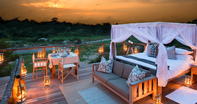 The romantic safari offers couples a special experience in the African wilderness. Romantic Safaris are the perfect getaway spot for couples looking to reconnect, celebrate a honeymoon or pledge their love under the African sun on a destination wedding safari.
View Romantic Safari in Africa
Whether travelling solo or with a family, a malaria and virus free holiday offers a hassle-free safari without compromising on the quality of wildlife. These malaria-free safari destinations offer you peace of mind while travelling in Africa.
View Malaria-Free Safari in Africa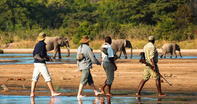 A walking safari offers a more authentic experience of exploring the African Bushveld. Walking safaris are always aided with a well-trained guide, who takes your through the bush by foot through various trails to spot big game, as well as fascinating lesser know wildlife. This up-close encounter with wildlife offers an insightful look into the habitat and behaviour. Most walking safaris also include game drives, so you get to experience the best of both styles of game viewing.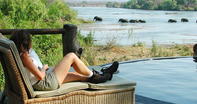 An African safari by the riverside offers more options to explore and experience the African bushveld. In addition to game drives and safari walks, you can also travel by boat through rivers and deltas in the area to spot hippos, crocodiles and big game quenching their thirst from a long day. Other activities can include canoeing, or for those less active simply lounge by the riverside and marvel at the natural surroundings.