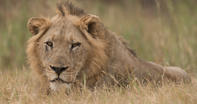 Kruger National Park is the most exciting South African safari destination. On a safari in Kruger National Park you are likely to spot the Big Five wildlife which comprises of Elephant, Lion, Rhino, Leopard and Buffalo. This is a popular safari destination for both local and international travellers, due to the good infrastructure, superb wildlife and variety of accommodation options. There are various Kruger Park safari options to choose from, ranging from budget to exceptional private South African safaris in Kruger National Park.
This enchanting Kruger National Park safari lodge in South Africa is unfenced, so animals move around freely in their natural environment....
more
The Kruger National Park is our flagship park, and with good reason. The first and most important thing you should know about it is that it is big. Very big. 2,000,000 ha. And in all this space...
more