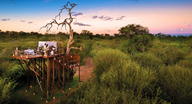 Whether you choose a romantic safari, honeymoon safari or destination wedding safari in the heartland of the African wilderness, you will create the most special memories and deep bonds for life. Discover a new lease on love and life all while exploring the untamed beauty of the African wilderness.
Nothing quiet beats the feeling of being carried high above the wild plains of Africa in a hot air balloon, while taking in one of the most spectacular sunsets on Earth with that someone special. A romantic safari in Africa is the perfect getaway for newlyweds or couples at any stage in their relationship to feel closer to each other and nature. The open bushveld and vast plains under the heat of the magical African skies, along with roaming wildlife in all their natural glory make for a one of a kind experience.
Breathtaking views and heart racing encounters with the world's largest and wildest hunters in the animal kingdom will leave you changed forever. Take a stroll from your private lodge in the dusk of day while you learn how to track down big game and encounter some elephants cooling off at a nearby river. Even if you don't meet a bathing hippo, the bushveld's amazing aromas and new landscapes are enough to leave you invigorated.
Go beyond a romantic getaway and tie your sacred nuptials under the lush treetops of the swaying African Marula trees. A destination wedding safari will make your special day truly unique and memorable.
Enjoy sundowners out in the bushveld overlooking a peaceful river while natural candle-lit lanterns glow with the twinkling stars of the night sky. Enjoy the panoramic views from your private infinity plunge pool as you unwind from the day's adventures, before retreating to your honeymoon safari suite.