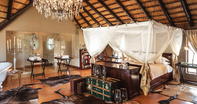 The ultimate luxury African Safari for the discerning traveller offers the finest premier safari lodge accommodation and facilities, excellent game viewing and superior service.
Stay in some of the most breathtaking locations in the bushveld. Whether overlooking the wild plains of grazing wildlife or lush trees housing crying birds, these award-winning ultimate luxury African safari lodges are all intricately designed with the finest furnishings and facilities to call home during your stay.
Enjoy infinity plunge pools while having sundowners as you watch the deep red African sun set over the burning horizon. Options to unwind with various wellness and therapy treatments will be made available at an on-site spa using only the best natural resources and ingredients.
Enjoy fine dining by some of the country's best chefs using only the finest homegrown organic produce inspired by famous local dishes from the area and the world, complimented by award-winning South African wines. Unwind at the gym or read a good book from the comforts of your room all while absorbing in the majestic beauty of your surrounds.
Game drives are led by the best-trained guides born and bred in the area who will know how to naturally track down the ultimate in big game in the reserve. Explore Africa in comfort, style and sophistication that will leave you refreshed and invigorated to take on life from a new perspective.