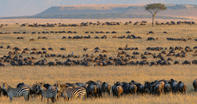 Great Migration Safaris in East Africa will undoubtedly take a nature lover's passion for wildlife to a new unprecedented level. A journey to the heart of East Africa on the vast plains of the Serengeti will leave you humbled and in awe of the majesty of our planet forever.
The Great Migration is a true spectacle to behold and one of the 7th wonders of the natural world. Every year over 6 million animals make the great and ancient trek across the vast plains of the Serengeti and Masai Mara in East Africa to maintain their survival. This is one of the most unique wildlife and safari experiences in the entire world, where you will undoubtedly get to witness Mother Nature's fiercest and most majestic creatures in their natural rhythm.
The migration also means ample opportunity for predators to take advantage of the large groups of prey pausing to refresh themselves from their journey. To witness the hunting lion or leopard is a humbling experience as you enter their territory and watch them play their own vital part in the Cycle of Life.
Wake up to the sounds of the native birdlife calling out to the rising sun, herds of grunting wildebeest along the river and the cries of roving zebra on the vast plains. A Great Migration safari allows you to stay on the fields the herds graze upon so you can be a part of this wonderful journey.
The abundance of wildlife in the area at this time allows you to choose from an array of game viewing options. Take a well-planned guided walk through the Serengeti wilderness if you dare, drive through the viewing hot spots or take a hot air balloon over the plains and get a bird's eye view of the migration in full motion. Nothing can be more exhilarating than being witness and part of this wonderful life cycle. A Great Migration Safari undoubtedly takes your African adventure to a new level.