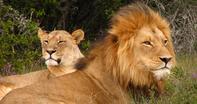 A Big Five Safari in Africa offer amazing wildlife viewing, and the best possibility of seeing the Big 5 animals - lion, elephant, rhino, leopard and buffalo.
The concept of The Big Five came from the early European settlers who considered the lion, leopard, buffalo, rhino and elephant as the best game to hunt down. Today, The Big Five refer to the Big 5 animals that roam and rule the wild plains of Africa, and are only worth tracking down for their majestic presence.
The lion is not considered King of the Jungle for nothing, this mighty feline's dominating stance and glare will unnerve any soul entering his kingdom. The African elephant's incredible size and gentle nature is a humbling experience as you realise your vulnerability against his in nature. Spotting a rhino in the wild is considered a rare privilege today, this endangered animal's unique beauty will leave you in awe.
Often hidden in the lush treetops, the leopard's beautiful spotted pelts and deep green eyes are a wonder to behold. Lastly, the buffalo is one of Mother Nature's prime game species. The buffalo's mighty stature and presence will leave you with a newfound respect for their pivotal role in the Cycle of Life.
Life in the wild is unpredictable, and sometimes Mother Nature does not cater to meet our expectations. Therefore, not everyone will have the opportunity to spot The Big 5 animals, as they are also living their natural lives and are not always readily available for viewing. Choosing a Big Five safari in Africa therefore looks to offer you the best and highest chance of seeing these magnificent animals, however once you enter the park you become part of their world and will need to respect the rhythm and space that is theirs.