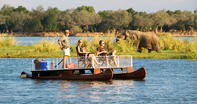 Riverside safaris in Africa offer a unique look into life along the the vital rivers that feed the African landscapes. Experience all the usual wildlife safari activities plus additional game viewing by boat or canoe.
On a riverside safari experience another side of the vibrant life of the bushveld along the banks of some of the most beautiful rivers in Africa.
Imagine watching the setting sun against the deep red crimson African sky while sipping on a pinot while 2 giraffes gently sip the cool waters situated in front of your room. Too perfect to imagine? Well those who opt for the riverside safari in Africa will undoubtedly be able to experience the majesty of the bush as life along the river teems with abundant wildlife at its banks.
Take a walk along the hazy banks or opt for a river safari cruise at dusk while spotting wallowing hippos, drinking herds and lazing crocodiles. Even without the wildlife, the views along the river create beautiful reflections of the majestic skies and abundant plant life.
Those staying along the river get the best of both worlds and will sometimes be surprised to find a wandering giraffe or elephant in front of their deck on a hot afternoon. Living along the river allows you to experience a deeper more natural immersion with your environment.
The large bodies of water in the African Bushveld allow you to witness the very arteries of life flowing through the great lands. All life feeds off these essential veins and offer spectacular opportunities for viewing. Enjoy sundowners on the boat safari or on the comfort of your outdoor patio as you watch nature nourish itself amidst some of the most spectacular scenery in the world.