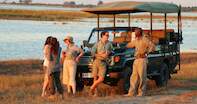 © Sundowners on the banks of Chobe River. Botswana
"Travel With Confidence" when you book your African destination holiday with Siyabona Africa.
Established Reputation
Siyabona is an established, trusted, family-owned Destination Management Company based in Cape Town. Our years of experience in travel on the African continent, and our hands-on approach to our clients' travel needs, has made us one of the bigger Destination Management Companies in Africa.
All travel enquiries are dealt with by a group of handpicked Destination Specialists, who are experts in the various regions of Southern and East Africa.
Industry Accredited
Siyabona Africa, is an
accredited South African Destination Management Company
servicing nine African states and the Indian Ocean islands of Zanzibar, Seychelles and Mauritius.
Destination Specialists

At Siyabona, you are more than just another number. Here you can expect excellent personal service and expert advice from our Destination Specialists. Siyabona Africa is not just another tour operator or travel agent. As a Destination Management Company any customer problems are followed up at management level, ensuring that each customer receives a high level of service.
All our Destination Specialists have an in-depth knowledge of the specific area of interest where you wish to book your holiday.
As the preferred partner and brand ambassador for many safari lodges and hotels, you can trust Siyabona Africa to provide you with a fulfilling and memorable holiday experience where all the details are taken care of and all you have to do is relax.
Guaranteed Quality
We acknowledge that our customers have diverse expectations and varied budgets. We therefore strive to meet all our clients' different expectations. The buck stops with us. Of the 750 000 plus bed night bookings done by Siyabona annually we have achieved 99.999% customer satisfaction rate.
Guaranteed booking
- when you book with Siyabona your accommodation is pre-paid and 100% confirmed.
Taking Care of the Details
Siyabona provides you with a complete holiday experience from start to finish so you will not have to worry about any of the details. Transfers, car hire, flights, day tours and activities can all be arranged by your Destination Specialist.
Guaranteed No Fine Print
When booking with Siyabona the price quoted is the price you will pay. No more, no less.
Travel Insurance
Whether you travel for business or pleasure, international travel involves a degree of risk. You need to ensure that you are covered in the event of illness, accidents, theft, or unforeseen amendments circumstances.
he best way to ensure that your trip will be as problem-free as possible is to take out a
Comprehensive Travel Insurance Policy
.
Financial Transaction Security

Credit card transactions are conducted via: 128bit Secure Payment Gateway administered by Nedbank South Africa.

Siyabona Africa conducts all other client transactions via Standard Bank of South Africa. For further details about how to pay, please visit:
Payment Methods.
Easy Payment Plan
Credit card holders with a budget payment option can enjoy paying for their holiday on a 6 month installment plan. Be sure to discuss this option with your Siyabona Destination Specialist.
Guaranteed Peace of Mind
To ensure your safety Siyabona have the provision of an
Emergency Medical Evacuation Service
that will ensure that you can be air-lifted to the nearest hospital should you experience a medical emergency while on your holiday.
Our Promise
In the unlikely event that you have experienced service quality levels that have not lived up to those described in your selected tour/accommodation, please
contact us
so that we can provide an immediate resolution.
Siyabona Africa ( Pty) Ltd. is a registered company as per COMPANIES ACT NO. 61 OF 1973 of South Africa.