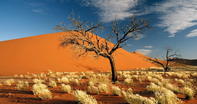 Create unforgettable memories on a Namibia self-drive holiday, exclusive fly-in Namibia honeymoon or on a guided tour. Discover the huge yet sparsely populated Namibia where big skies and dramatic sceneries with excellent game viewing opportunities make for a great holiday to Namibia.
Namibia is known as a self-drive destination with excellent road networks that are well sign-posted. If you are not that keen to self-drive you can either opt for a fly-in safari or guided road safari to Namibia. Accommodation in Namibia ranges from guest houses, hotels, rest camps and lodges.
A country of hauntingly beautiful diversity and contrasts with wide open spaces, deserts, wildlife and friendly people. Visit the Damaraland, the ship-wrecked coastline of the Skeleton Coast or the remote Kaokoveld. See gigantic sand dunes in the Namib Desert and visit the iconic wildlife abundant Etosha National Park.
Outdoor and sports activities as well as silence and tranquility are combined with big city life or cultural highlights. Meeting the Himba people or admiring ancient San rock art are Namibia attractions which contribute to a wonderful overall experience of this country.
Best Namibia Safari and Holiday Destinations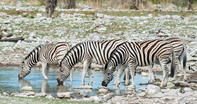 One of Namibia's most famous treasures, Etosha is a massive Park with a large, shimmering salt pan, 30 waterholes and springs and abundant game. Etosha is an all year round game viewing destination and offers a wide range of accommodation both inside the
Etosha National Park
and on its border.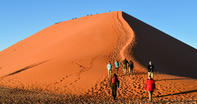 Visitors come from all over the world to see the spectacular landscapes of giant dunes, desert, mountains and gravel plains, also to learn about the fascinating animals and plants that inhabit such a remote place. The beauty is overwhelming here. A
Sossusvlei safari
is one of Namibia's must experiences.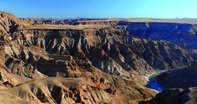 Stay at
Fish River Canyon
, the worlds second largest canyon. Only the Grand Canyon is larger. Fish River Canyon extends for 100 miles (160km) north to south along the Orange River in southern Namibia. It reaches widths of 17 miles (27km) and depths of 1800 feet (550 metres). The vistas offered from various points along the rim are, as one might expect, simply incredible.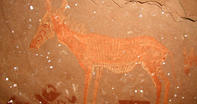 Damaraland
is one of the most scenic areas in Namibia with a landscape of rugged red hills of broken rock with streaks of greenery and snaking river courses. The wildlife living here has to adapt to survive intense conditions and wandering desert adapted elephant and rhino are common sights.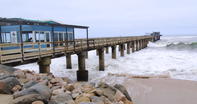 Swakopmund
is a coastal holiday town in Namibia, an ideal base with very good amenities and facilities and just a scenic 30 minute drive away is
Walvis Bay
with its busy harbour and natural lagoon, another seaside haven, both places enjoy cooler coastal weather than the interior.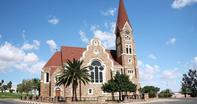 The capital city is in a beautiful valley in the centre of the country, its modern and clean with German colonial architecture and a mix of cultures, there is plenty to do in and around
Windhoek
.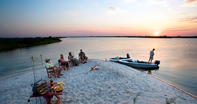 Totally different from any other part of the country due to its high rainfall and rivers, including the Okavango, this narrow piece of land is lush, green and dense with swamps and waterways. Livingstone (Victoria Falls) and Chobe can be accessed from this strip. View
Caprivi Strip
lodges in Namibia.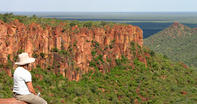 Slightly north and east of Windhoek, the
Waterberg Plateau
rises up straight out of the earth with lush and unusual ground vegetation - a unique flat-topped plateau. In the south-east is Hereroland, home to many people following a traditional way of life unchanged over time.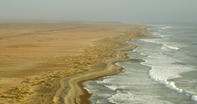 Forbidding and beyond compare with a treacherous coastline, intense weather, endless sand dunes and surprising animal life,
Skeleton Coast
is littered with ruined ships and whale bones best seen from the air, it is also fascinating with a lot of history.
Create your own Namibia Holiday Itinerary
With such a diverse range of places to visit and see - all that is left for you is to pack your bags and hit the road. We can help you plan your itinerary and choose the best route, vehicle rental and accommodation to ensure that you have seamless self-drive holiday to Namibia that suits your budget and needs.
Map of Namibia
Use this handy map of Namibia to plan your self-drive safari. We can create a tailor-made itinerary for you.