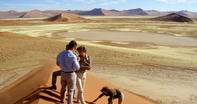 Namibia safari lodges offer the possibility of spectacular game viewing in world famous parks or close encounters with unusual species. And you can do all this in absolute style.
Namibia Travel Guide
Outdoor and sports activities as well as silence and tranquility are combined with big city life or cultural highlights. Meeting the Himba people or admiring ancient San rock art are Namibia attractions which contribute to a wonderful overall experience of this country.
Namibia Highlights
Striking contrasting landscapes from coastal and desert landscapes to savannah and dry salt pans
Easily accessible for self-drive safaris in Namibia with well sign posted road signs
Spot abundant wildlife congregating around waterholes in Etosha National Park
Discover the stark desert landscape and climb the swirling dunes of Sossusvlei
Get the adrenalin pumping with quad biking and sandboarding the desert dunes
See 100 000 Cape fur seals at Cape Cross
Track the wandering desert adapted elephants and rhinos of Namibia
Visit the german influenced coastal town of Swakopmund and Luderitz
Experience the haunting beauty of Kolmanskop abandoned "Ghost Town"
Climb the boulders of the dramatic "Matterhorn of Africa" - The Spitzkoppe
See ancient rock art in Twyfelfontein in the Damaraland
Hike Namibia's Fish River Canyon
Engage with the local Himba people

Etosha National Park & Northern Namibia

©Peter Delaney

One of Namibias most famous treasures, Etosha is a massive Park with a large, shimmering salt pan, 30 waterholes and springs and abundant game. Known for: Fantastic game viewing; birding after the rains; incredible landscape

Activities: Exceptional game viewing; wildlife safaris; photography; birding after the rains.

Etosha National Park Guide:

Kaokoveld and the North

Surrounding Etosha, this area has great diversity, from wild frontiers and country in the south and west, to flat, green stretches in the far north which reach up to the great Kunene River.

Known for: Desert Elephant; wild country around Marienfluss Valley; Epupa Falls; Tsandi Royal Homestead; Hoba Meteorite near Grootfontein and Lake Otjikoto near Tsumeb

Activities: Extreme 4x4 trails; rafting and hiking at Epupa

Kaokoland Guide:

Damaraland

This wilderness area falls in the region below Etosha through to Swakopmund and inland along the Skeleton Coast Park. The wildlife living here has to adapt to survive intense conditions.

Known for: Highly adaptive wildlife and plants; Spitzkoppe and Brandberg Massif; Bushmen Rock Engravings; Organ Pipes rock formations, ancient Petrified Forest all near Twyfelfontein; Erongo Mountain Caves

Activities: 4x4 trails; hiking and climbing; horse riding; caving; plant and game viewing

Damaraland Guide:

Caprivi Strip

Totally different from any other part of the country due to its high rainfall and rivers, including the Okavango, this narrow piece of land is lush, green and dense with swamps and waterways. Livingstone (Victoria Falls) and Chobe can be accessed from this strip.

Known for: Superb wildlife conservation area; Popa Falls

Activities: 4x4 adventures; big game viewing; boating, fishing, canoeing, kayaking; birding

Bushmanland and Kaudom Game Park

This area is in total contrast to the Caprivi located further north-east. Bush savannah and sparse water, giant Baobab trees, Kalahari sand roads and dry forest rich with game.

Known for: Bushmen (San); Nyae Nyae Pans; Game and African Wild Dogs; ancient Baobabs

Activities: 4x4 trails; game viewing; birding; learn the Bushmen way of life permission required from tourism services first

Caprivi Strip Guide

Central Namibia

Windhoek and surrounds

The capital city is in a beautiful valley in the centre of the country, its modern and clean with German colonial architecture and a mix of cultures, there is plenty to do in and around the city.

Known for: City sights include Independence Avenue, Ink Palace, Supreme Court, Christ Church, The Old Fort, Heroes Acre, Botanical Gardens; Daan Viljoen Game Park; Gross Barmen and Rehoboth Hot Springs; Oanib Dam; Arnhem Cave; Observatory south of city.

Activities: Golf; city lifestyle; township tours; stargazing; freshwater angling; 4x4 trails; horse riding; hiking; birding; picnics

Windhoek Guide

Waterberg Plateau and Hereroland

Slightly north and east of Windhoek, the Plateau rises up straight out of the earth with lush and unusual ground vegetation. In the south-east is Hereroland, home to many people following a traditional way of life unchanged over time.

Known for: Waterberg Park; ancient Rock engravings; military cemetery, Dinosaur prints; Herero traditional clothing and way of life.

Activities: Game viewing; hiking; 4x4 trails; birding

Waterberg Plateau Guide

The Namib Desert and Atlantic Coast

The Skeleton Coast

Forbidding and beyond compare with a treacherous coastline, intense weather, endless sand dunes and surprising animal life, this coastal Park is littered with ruined ships and whale bones best seen from the air, it is also fascinating with a lot of history.

Known for: Ship graveyard; amazing animals and plants; desert landscapes, Cape Cross Seal Reserve.

Activities: Advanced 4x4 trails; fly in tours; fishing; hiking; photography.

Skeleton Coast Guide

Swakopmund and Walvis Bay

Swakopmund is a major holiday hotspot, an ideal base with very good amenities and facilities and just a scenic 30 minute drive away is Walvis Bay with its busy harbour and natural lagoon, another seaside haven, both places enjoy cooler coastal weather than the interior.

Known for: Swakopmund nightlife, attractive historical buildings, aquarium, excellent base for touring; Walvis Bay birdlife on the lagoon and Dune 7; Henties Bay.

Activities: Great drives and trails along the coast and inland; golf; sandskiing; paragliding; angling; horse and camel riding; 4x4 trails; Welwitschia Drive; hiking; birding.

Swakopmund Guide Walvis Bay Guide

Namib Naukluft Park

Visitors come from all over the world to see the spectacular landscapes of giant dunes, desert, mountains and gravel plains, also to learn about the fascinating animals and plants that inhabit such a remote place. The beauty is overwhelming here.

Known for: Intensely coloured dunes at Sossuvlei; Welwitschia Drive; Sandwich harbour; incredible diversity and rarity of animals that can survive in this area; desert flowers in the rainy season; Sesriem and Kuisib Canyons; NamibRand Reserve.

Activities: Fishing; advanced 4x4 trails; drives; hiking; ballooning; birding; photography

Sossusvlei Guide

Southern Namibia

Namaland and surrounds

Visitors in this area can watch the Nama crafters at work or visit various sites and parks between the Kalahari and the Namib Naukluft Park, also impressive are the Tiras Mountains.

Known for: Rehoboth Hot Springs; Hardap Dam and Game Park; Brukkaros; Duwisib Castle; NamibRand Reserve; Sesriem and Kuiseb Canyons;

Sossusvlei Activities: Hiking; fishing; 4x4 trails; birding; incredible creature trails; game viewing; ballooning



Keetmanshoop to Luderitz

Rich with history and unusual sights, the road between them is one of the most beautiful scenic drives in Namibia, both towns have plenty to see and do offering worthwhile adventures close to the Fish River Canyon.

Known for: Keetmanshoop Museum; Quiver Tree Forest; Giants Playground; Naute Recreation Resort; wild horses of Garub in Aus; unique Luderitz Art Deco architecture and history; diamonds; great seafood; Kolmanskop ghost town; crystalised sand roses.

Activities: Explore Luderitz history and museum, waterfront, seafood and harbour cruises; scenic drives and walks; Kolmanskop tours; 4x4 trails; hiking; fishing

Luderitz Guide

Fish River Canyon

Millions of years old and with gorges that are 500 metres deep, the 2nd largest canyon in the world is a sight to see, twisting and turning, carved by the course of the seasonal Fish River and surrounded by a seemingly endless stony desert. Covering 100 miles from north to south it winds down to Ai-Ais Hot Springs.

Known for: Incredible record of the earths history; stunning views; challenging 5 day hike along the canyon floor; Ai-Ais Hot Springs.

Activities: Hiking; birding; canyon exploration; photography; hot springs

Fish River Canyon

Ai-Ais Hot Springs and Richtersveld Transfrontierpark


Boiling up from deep underground, the sulphurous 60C (140F) water, is rich in minerals and excellent for rheumatism and other disorders, the spa has various pools (indoor and outdoor) and facilities, closed from November to February due to intense summer heat.

Known for: Hot Spring Therapeutic qualities; holiday resort; The Succulent Karoo and incredible halfmens and lithop plants; rainy season flowers; wildlife.

Activities: Spa and resort activities; Orange River canoeing; hiking; birding