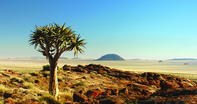 Aus is located in the Karas Region of southern Namibia. Though Aus is small, it has a hotel, shop, garage, police station and is on a railway line.
An attraction just west of Aus is the wild horses living in the Namib Desert. These horses have adapted to the harsh conditions and gather at a waterhole at Garub (20 km west of Aus), allowing tourists to respectfully watch these unique wild horses of Aus from a hide.
View Aus accommodation in Namibia.