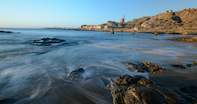 © Shem Compion
Stay at Luderitz hotels when visiting this charming coatstal town in Namibia. Luderitz was an area rich in diamonds and is located 815 km from Windhoek in Namibia.
It began life as a trading post (1850s) with fishing and guano-harvesting but when diamonds were discovered in 1909 in nearby Kolmanskop, Luderitz enjoyed a swift flood of prosperity.
Today, diamonds are mostly found elsewhere and off-shore, so the Luderitz economy now centres on fishing and tourism. Its allure as a town lies in the fact that little has changed since the early 20th century.
Luderitz is an eccentric Bavarian-style village, built on the rocky, barren and windswept coast of the southern Namib Desert. It still looks almost as it did at the beginning of the 20th century. Its colonial history as the birth of Germany's first settlement in South West Africa is revealed by the many charming and elegant buildings such as Goerke House and Felsenkirche (1912) on top of Diamanteberg (Diamond Hill).
Goerke Haus has a classic German Art Nouveau interior of stained glass and wood panelling. The Felsenkirche is the most unique building in Namibia – all materials including the construction sand were shipped in by boat from Germany!
There is a 2-hour catamaran cruise departing every morning (weather permitting) from the small modern Luderitz Waterfront. Although it leaves early (08.00am) and can be quite cool on misty mornings, it is very exciting to see the dolphins and seals swimming alongside the boat as you head out past the famous Diaz Point and onto the barren Halifax Island with its colony of endangered African Penguins.
See Luderitz hotels in Namibia below.