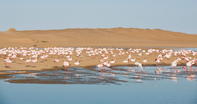 The delightful Bavarian style town of Swakopmund in Namibia is situated snugly between sea and desert. It is a classical coastal town, where many adrenaline seekers find reprieve.
Water and sand based adventure sports are the order of the day from quad biking in the dunes, sand boarding, sky diving and catamaran cruises.
In terms of Flora, both the Welwitschias Mirabilis and the Kokerbaum are exclusive to Namibia. This strange plant only grows on the stony plains of the north Namib and to behold its most beautiful specimens we recommend that you take the excursions to Welwitschias Drive or Welwitschias Valley, a few kilometres to the north-east of Swakopmund.
See recommended Swakopmund accommodation in Namibia below.