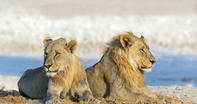 Etosha National Park is a large, generally flat reserve in north western Namibia. It has an area of 22,270 square km.
A vast and shimmering ocean of dry flat salt, its silvery white and greenish hues transcend for miles as dust devils swirl with abandon along its seemingly endless boundary, the air crackles with heat blurring the horizon beneath an electric blue sky; the Etosha Salt Pan in Northern Namibia epitomizes its name as "The Big White Place".
Once a great inland sea now provides sanctuary for an epic array of protected wildlife within its salt pan desert as the summer rains replenish the remaining springs providing life-sustaining water for wildlife amidst dramatic African scenery.
Thee Best Wildlife Safari in Namibia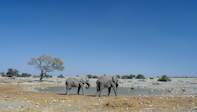 ©Shem Compion
The third largest National Park in Africa, Etosha is home to an incredible 114 mammals and 340 bird species some of those being elephants, zebras, giraffes, wildebeest, rhinos, as well as hyenas and big cats.
Experience an amazing Namibia safari in Etosha National Park. Activities while staying at Etosha safari lodges include guided day and night game drives. Watch the varied wildlife congregate around the waterholes.
See below Etosha safari lodges and tours in Namibia.