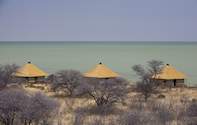 Quiet, solitude and witnessing the shimmering green and white expansive Etosha Pan is the highlight of staying at Onkoshi Camp in Etosha National Park.
Why We Love it and You Will Too
Perched on the rim of the Etosha Pan - Africa's largest salt pan.
Eco-friendly Etosha Pan accommodation using mainly solar power
Amateur astronomers will be in awe of the stargazing opportunities
Spectacular sunrises and sunsets over the Etosha Pan
Guided day and night game drives or self-driving in a remote area
Your Onkoshi Camp Experience
The Etosha Pan. One of the largest salt pans in the world, this massive dried up lake is home to some of the most beautiful sunsets you'll ever see - and Onkoshi Camp is the perfect place to see them from!
Onkoshi Camp in Etosha National Park is a low-impact, environmentally friendly lodge that is built on the rim of the Etosha Pan. The camp offers only 15 units with 30 beds, so it guarantees a truly personal and exclusive experience. Significantly, the location is entirely out of view from current tourist routes and all other developments in the area.
Onkoshi Camp offers superb views of the Etosha Pan during hot days, which has shimmering mirages. During wet months, birding is excellent as blush pink-coloured flamingos flock in profusion. Speak to our Destination Experts to find out when is the best time to visit Etosha Pan.
Onkoshi Camp Facilities
Restaurant
Bar
Sunset deck
Swimming pool
Souvenir Shop
Laundry and room service available on request
WiFi is available in the main area and restaurant