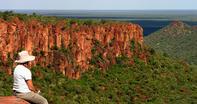 Waterberg Plateau in Namibia is located east of Otjiwarongo and is about 200 metres high. It is 20 km wide and 50 km long with an arid surface on top, while the foot of the mountain is lush and green.
The Waterberg Plateau National Park is a mountain reserve with striking copper and red sandstone cliffs, which overlook the Kalahari Desert.
Natural hot springs and rare animal's species such as Black and White Rhino, Namibia's only colony of Cape Vultures, sable antelope and blue wildebeest can be found here. The best way to explore this park is a guide or self guide nature walk up and around the plateau.
Waterberg Plateau and 41000 hectares of surrounding land was declared a Nature Reserve in 1972. The plateau is largely inaccessible and several of Namibia's endangered species were soon relocated here to protect them from predators and poaching. The programme was very successful and Waterberg now supplies the other Namibian parks with rare animals.
The average summer maximum temperature is 38C, during the cooler months these maximum temperatures are in the lower 20sC. The area has 500mm of rainfall between November and March. See below Waterberg Plateau accommodation in Namibia.