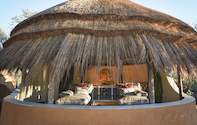 Home of The Africat Foundation - Okonjima is famous for research and the rehabilitation of Cheetah and Leopard who roam freely in Okonjima Nature Reserve.
Go on the exciting Bushman (San) Trail
Visit the famous Cheetah Project nearby
Partake in the Cheetah and Leopard tracking
Enjoy luxury African safari lodge accommodation and game viewing
Okonjima Luxury Bush Camp in Okonjima Nature Reserve is located in the Omboroko Mountains. It is home to The Africat Foundation - famous for research and rehabilitation of Cheetah and Leopard who roam freely in the reserve.
At Okonjima, you can get closer to these beautiful creatures than you have ever done before. The 'Cheetah Tracking Trail' gives you the chance to participate in radio-tracking rehabilitated Cheetahs on foot in the rehabilitation area, and see orphaned Cheetah.
At Okonjima Luxury Bush Camp 'Leopard viewing' is from the safety of a hide or game-viewing vehicle, and sightings are good. There are guided and self-guided walking trails, and The Bushman Trail lets you experience a day in the life of the original hunter-gatherer at this Namibia bush camp.
There are over 300 species of birds to keep you busy with your binoculars at this safari lodge in Namibia. Night drives are conducted so that you can see the nocturnally active creatures.
Child Policy
Children under the age of 12 are regrettably not permitted. This is due to the nature of the activities.