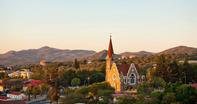 Windhoek is the capital of Namibia and is a pleasantly small city with interesting markets selling African drums and woodcarvings from the north, while elegant shops offer quality leather goods and quality gemstones.
Windhoek is a cosmopolitan city with excellent hotels, restaurants, shops, banks and facilities - all accessible from luxury Windhoek hotels and accommodation.
Windhoek is an ideal centre from which to explore the surrounding countryside. The city is also the starting point for tours by car, motor coach or fly-drive to every part of the country. Most importantly Windhoek is home to Namibia's brewing industry, and for the less active Windhoek is a great place to while away the time while enjoying a refreshing cold beer. The Oktoberfest takes place in October every year.
Attractions in Windhoek include Alte Feste which houses the National Museum, the Christuskirche, which is a beautiful historical monument, originally built in 1910 to accommodate the German Lutheran Congregation and the Heinitzburg Castle.
See below recommended Windhoek hotels and accommodation in Namibia. Windhoek is also the starting point for most Namibia safari tours.