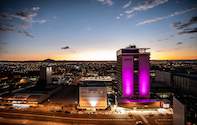 This five star Windhoek hotel has a great deal more to offer guests than its remarkably convenient downtown Windhoek location, with banks, restaurants and shops of every description in the adjoining shopping centre.
Accommodation: En-suite hotel accommodation
Highlights: Wellness Centre, International Business Centre, Casino, The Dunes Restaurant
Activities: Shopping, Curio & crafts shopping, day trips, swimming, beauty treatments
Getting There: Self-Drive, Fly-In
The Casino is at the centre of the Windhoek hotel and offers guests a pleasurable gaming experience. The accommodation is comfortable and the superb rooftop pool, gym and sauna add to the overall experience.
In summer, the temperature in the Kalahari basin climbs up to 40 degrees Celsius (104 degrees fahrenheit) and higher. The annual rainfall is rarely more than 100 mm, and can only be expected between December and April, when tropical thunderstorm activity extends down to the Kalahari basin.
Then it rains huge amounts in a short time, and the Namibia desert transforms into a green oasis with colourful wild flowers all over. In winter (June to August), the climate is pleasant. Then the air is dry, and temperatures lie around 25 degrees Celsius (77 degrees Fahrenheit). But the nights are harshly cold.
Located in the city centre, this Windhoek hotel is a gateway to Etshoa National Park and the Namib Desert. All guest rooms have colour TV, phone and radio. Facilities include a restaurant, bar, coffee shop, 24-hour room service, gym and conference facilities for up to 200 guests. The shopping centre within offers additional facilities.
The Avani Windhoek Hotel & Casino offers a small and intimate conference venue and banqueting facility, located on the rooftop of the Windhoek hotel, with magnificent views of the city. The Conference facility includes a lobby, pre-assembly / bar area and a multi- purpose function room.
The conference centre is serviced by its own kitchen, which is adjacent to the Moringa Room. The room is ideal for conferences, seminars, fashion shows, dinner, dancing or cabaret and can comfortably seat 120 diners banquet style and 200 cinema style seating. The conference room affords guests a panoramic view of the city.