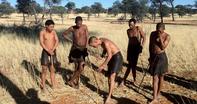 A stay at Kalahari Desert Lodges in Namibia offers a cultural and wildlife safari experience. The Kalahari Desert covers eastern and southern Namibia, large parts of Botswana and the north-western area of South Africa.
The Kalahari Desert can't be defined as a real desert as it receives too much rain. It can rather be called a fossil desert. This area in Namibia is inhabited by the San people.
In contrast to the high sand dunes in Sossusvlei in the Namib Desert, the look of the Kalahari is characterized by little grass clumps and red dunes. They are not very high but long and have a sharp crest.
Spot African wildlife like Black-maned Kalahari Lion, Oryx, Giraffe, Warthog or little Meerkat (Suricate) on game drives when staying at Kalahari Desert Lodges.
View Kalahari Desert Lodges in Namibia