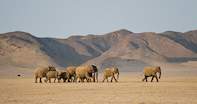 © Olwen Evans
Damaraland lodges in Namibia are located to the south of Etosha and north of Swakopmund. Damaraland is known for its spectacular scenery and desert elephants.
Massive granite koppies and distant mountain ranges are characteristic of the Damaraland landscape.
The Brandberg and Twyfelfontein areas in Damaraland host fascinating rock engravings and paintings thought to be 6000 years old, of which the White Lady of the Brandberg is the best known.
The fantastical Petrified Forest, a collection of around 50 fossilized trees over 260 million years old is also nearby, as well as Burnt Mountain, Namibia's highest mountain. The Vingerklip (finger rock) is a towering finger of limestone near Khorixas that rises 35m above its base. This is a remnant of a plateau formed over 15 million years ago.
Damaraland is home to the desert-adapted black rhino and a number of professional conservationists are dedicated to monitoring and protecting the dwindling species from poachers. The Damaraland community consists of a unique group of people who have recognised the value of the wildlife on their land and formed a Community Wildlife Conservancy to protect it.
The food and water availability determines the movement and cycles of the rare and endangered Desert Elephant, Black Rhino, Gemsbok, Kudu, Springbok and other species adapted to desert's harsh conditions. Lion and Cheetah have been spotted in the area on a few occasions. Other game species include Ostrich.
Damaraland lodge activities basically include drives, nature walks and visits to the famous Twyfelfontein rock art engravings. The opportunity to sight the Desert Elephant depends on their movements - which range over great distances. And of course, stargazing is a must, with crystal-clear night skies.
See Damaraland lodges and Namibia safari tours below.