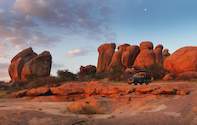 Ai Aiba Rock Painting Lodge is a place of spectacular natural beauty rich in history, set against ginormous granite boulders in the foothills of the Erongo Mountain range in Damaraland, Namibia. You will wish you were here!
Why We Love it and You Will Too
Superb social distancing travel destination in the Erongo Mountains of Damaraland
Set in a landscape of hills, mountains and magnificent huge granite boulders
Swimming pool and deck overlooking the majestic semi-desert
Adventures include cycling, hiking, rock art tours, nature drives and stargazing
Rock art sites offer a journey into an unknown time and culture
Your Ai Aiba Lodge Experience
Ai Aiba - The Rock Painting Lodge is the place to escape from the hustle and bustle of city life. Immerse yourself in the magic of the breathtaking landscape, gently touched by the mystic colours of the setting sun. Whether you choose to hike or cycle along the trails, experience a sundowner game drive, or try mountain biking, you will never forget your time at Ai Aiba Rock Painting Lodge in Damaraland.
The rock art near Ai Aiba Lodge is an exquisite fusion of art, nature, and mysticism. Over 200 sites of these fascinating San rock art paintings are found in the surrounding granite boulders and hills. Rock art is one of the only examples we have of ancient human culture. A place where you can get up close to rocks more than 130 million years old that tell their stories through the faint traces of animal figures and scenes of bushmen life.
Hiking trails take you through stunning scenery and past unusual rock formations, waterfalls, and nature. Activities include nature game drives, cycling, hiking, birding, rock art tours, guided walks, mountain biking and San Living Museum tours.
The panoramic view from the Ai Aiba Lodge restaurant and bar is spectacular. Take a dip in the pool, a refreshing respite from the heat. Relish the pure tranquillity of Damaraland.