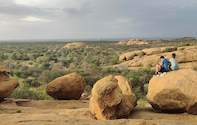 Ai Aiba Rock Painting Lodge forms part of the 200 000 hectares Erongo Mountain Nature Conservancy in Damaraland, Namibia.
Ai Aiba lodge is located 3 hours from Windhoek, Etosha National Park and Swakopmund.
Ai Aiba - The Rock Painting Lodge is located in the Erongo Mountain Nature Conservancy, three and a half hours from Windhoek. The lodge's gravel road is flanked by the Erongo Mountain range, which is composed of a massive volcanic complex. This surreal environment has rare and adapted plant, bird, and animal life.
You will find yourself feeling peaceful and humbled when surrounded by such an extraordinarily beautiful landscape.
Ai Aiba Rock Painting Lodge is a perfect place to spend the day by the pool with a good book, or if the energy of the granite mountains inspires you, to walk or drive with the local experienced guides through the Erongo Mountains.
Directions From Windhoek
From Windhoek, take the B1 to Okahandja, which becomes the B2 as you head towards Swakopmund.
Shortly before Karibib take the C 33 towards Omaruru.
Travel along this road for 63 km, and just before the town of Omaruru, turn left onto the D 2315.
After 10 km of gravel road enter the Erongo Mountain Nature Conservancy gate.
Another 35 km will bring you to the entrance of Ai Aiba Lodge.