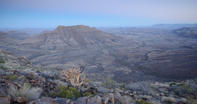 © Shem Compion
The Fish River Canyon in the south of Namibia is comprised of wind-carved depressed, inclines, rock formations moulded from the inland plateau, plunging canyons and an expansive nature, which stretches approximately 160 km to the horizon and in parts nearly 600 m deep.
The Fish River Canyon is dramatic in its simplicity with valleys and gulley slicing through its geological foundations laid almost 2 million years ago and is considered to be second in size to the Grand Canyon in North America.
This is one of the last great wildness treks, an impressive 5-day, 86 km self-sufficient, guided endurance hike, strictly for those fit enough to take on its rugged gorges. The park is open for these trails from the beginning of May to mid-September each year.
The Fish River Canyon is situated along the Fish River which is the longest river in Namibia. In winter during the dry season, the river bed is often dry, however, after the summer rains, the river can flow with vigour. The gate to Fish River Canyon is located at the Hobas rest camp and it is another 10 km from the actual Canyon.
See below Fish River Canyon lodges and tours in Namibia.