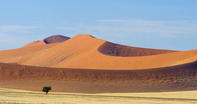 © Shem Compion
Sossusvlei is located in the Namib-Naukluft National Park in Namibia. This Namib Desert area offers superb scenery and adventure activities.
Experience the highlights of roaming the ruby dune fields of the Sossusvlei, which is the end of an ancient riverbed. The colours of some of the greatest dunes blaze a ruby orange in the morning, as the sun strikes their slopes.
Many start their day with an uphill walk to the top of climb Dune 45, a star dune in Sossusvlei. Its name comes from the fact that it lies exactly 45 km on the gravel path that connects the gates from Sossusvlei to Sesriem. Standing over 170m, the star dune is composed of 5 million year old sand that was brought by the Orange River from the Kalahari.
Explore Sossusvlei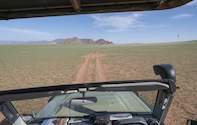 ©Shem Compion
A 4x4 is required to travel to Deadvlei, which means Dead marsh, a white clay pan, surrounded by some of the highest dunes in the world. The pan was formed when the Tsauchab river once flooded the area, temporary allowing camel thorn trees to grow, however when the climate changed and drought hit the land then surrounding dunes encroached the pan and blocked the river.
Without water the trees died, leaving the burnt out black skeletons (approximately 900 years old) scattered throughout the pan.
Take a walk through the cavernous gorges and dried out riverbeds of Sesriem Canyon, which were once carved and chiseled by a free flowing river. Great ways to experience the great desert expanse is either on a charter flight or take a hot air balloon ride of the shifting colours and undulating sand dunes of the mighty Namib.
See below Sossusvlei Desert Lodges in Namibia.