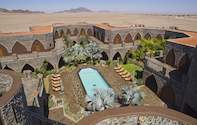 If you're drawn to those stunning Namibian desert-scapes, you'll love the unique setting of Le Mirage Resort & Spa, located in the heart of the Sossusvlei area.
Why We Love it and You Will Too
Le Mirage Resort and Spa is a unique property which forms an ideal base from which to explore Namibia's iconic Sossusvlei — a salt and clay pan surrounded by rusty, red dunes.

Aside from the overall aesthetic of this Sossusvlei accommodation, a stand out feature of Le Mirage is the Mystique Spa which features a variety of massage rooms, an ancient massage area, and a jacuzzi.

There are a variety of room options available, including the romantic sky rooms where you can sleep right beneath the star-spangled sky.

While it might seem like Le Mirage is in the middle of nowhere, during your stay, you can expect to eat like royalty with bountiful breakfast buffets, elegant à la carte lunches and 5-course dinners served in the evening.

As for activities, enjoy a dip in the swimming pool, book a hot air balloon trip, embark on a nature drive and spend a day exploring the majestic Sossusvlei dunes.
Your Le Mirage Resort & Spa Experience
Namibia has its fair share of unique attractions and accommodation options, but Le Mirage Resort & Spa is one that tops the list.
From the outside, it closely resembles a towering fortress rising up from the middle of the desert, and as you approach it from the dry Namibian roads, you'll find yourself utterly mesmerised by the way it magically appears out of nowhere.
But what can you expect to find inside? Le Mirage Resort and Spa certainly breaks the mould from your typical lodge or hotel and offers an experience not quite like any other. Within its thick, stone walls, you'll find yourself immersed within an oasis of pure indulgence with gourmet dining, luxury suites and all-round silver spoon service.
The main features of this Sossusvlei desert spa resort include the elegant restaurant and the expansive courtyard with a sparkling swimming pool lined with tropical palm trees. The Mystique Spa ticks all the right boxes, offering a selection of massages, pedicures, manicures, and de-stress treatments.
Le Mirage even features its very own on-site waterhole which attracts a few 'Namibia specials' at night, such as Oryx and zebra and when you're ready to venture beyond the walls of Le Mirage Resort and Spa, you'll have all the attractions of Sossusvlei right on your doorstep.