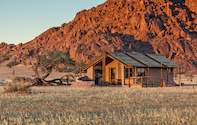 Desert Camp is the gateway to Sossusvlei and Sesriem Canyon, offering affordable self-catering accommodation in Namib Naukluft Park, Namibia.
Experience the Sossusvlei
Refresh your soul and soak up the Namib Desert, Sossusvlei area and Sesriem Canyon in Namibia.
Admire incredible views of the Namib Desert landscape and the surrounding mountains from the refreshing pool.
Enjoy a relaxing ice-cold beer or sundowner from the bar after a fun-filled day in the Namib Desert.
Fill out an order form for fresh food supplies to be delivered to your unit.
Book a host of thrilling activities at the nearby Sossusvlei Lodge Adventure Centre.
Travellers opting to stay at Desert Camp in Namibia will be delighted by the location. Desert Camp is situated just 5 km from the entrance gate to Sossusvlei and Sesriem Canyon in the Namib Naukluft Park, it affords travellers with the opportunity to explore the Sossusvlei area on their own terms.
Desert Camp in Namibia is understated and elegant. Boasting a small intimate setting with just 28 affordable self-catering accommodation units on offer. This alone ensures that your Namib Desert camp experience will be private and enjoyed on your own terms.
Experience all the comforts of home in the middle of the Namib Desert. Desert Camp Namibia offers guests attractive facilities at the main building. These include a fully stocked and serviced bar with big screen television, a sparkling swimming pool, free WiFi and 2 communal bomas with cooking and washing up facilities if you feel like getting out of your space so to speak.
At Desert Camp, the Sossusvlei Desert area and Sesriem Canyon in the Namib Naukluft Park are right on your doorstep. You can explore the natural beauty of the area with an assortment of exciting activities in and around camp.