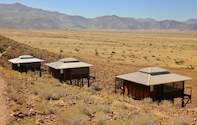 If you've been looking for a place to get away from it all - Moon Mountain Lodge is the place for you. Ideal as a base to explore the spectacular Sossusvlei in Namibia.
The sunsets are literally awesome - you won't find better lighting for a selfie anywhere!
The location is also good for a day trip to Sesriem and Sossusvlei
Spacious suites with plunge pools have spectacular views
Enjoy homemade food prepared with love as well as self-catering options
Romantics will be enchanted by the stargazing and serenade of stars each night
Your Moon Mountain Lodge Experience
Moon Mountain Lodge offers luxury tented accommodation in the Namib Desert. Located just 30 km south of Solitaire, on the C19 road, makes it convenient for those travelling between Windhoek and Sossusvlei. And yet, it is far enough off the beaten path that you'll feel like you've stumbled upon your own private oasis - a place where you can truly relax and leave your worries behind.
Moon Mountain Lodge has both suites and self-catering units. Braai on your patio or enjoy a meal at the restaurant. The staff are happy to cater to any dietary restrictions or allergies, but if you'd rather cook for yourself, there's no better spot than Moon Mountain Lodge!
Nebula Restaurant serves breakfast, lunch and dinner; Alfresco dining is possible on the outside deck (weather permitting). Cosmos Bar serves drinks all day long and boasts stunning views - sundowners are a must!
Sossusvlei is approximately 50 minutes drive from Moon Mountain Lodge, followed by 45 minutes to Deadvlei and Dune 45. Guests wanting to embark early for a full day exploring the spectacular vistas of Sossusvlei can get a delicious breakfast pack to take with and enjoy on the drive.
Sossusvlei is a place that you have to see to believe. It's one of those places that will take your breath away, and leave you feeling completely humbled by Mother Nature.
An extra day is recommended just to relax and relish the peace and tranquillity that Moon Mountain Lodge offers. Friendly staff, comfortable, spacious tented suites and some of the best sunsets you have ever seen will make your stay worthwhile.