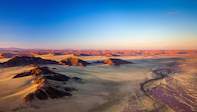 © Chris Daly
A visit to the arid plains and red sand dunes of the Namib Desert in Namibia leads to many safari experiences such as climbing Dune 45 or seeing the Sesriem Canyon.
This Namib Desert Guide tells you a bit more about what to look forward to during your Namibia vacation.
The Namib Desert is truly a wondrous place, and one of the great African attractions! With dramatic golden dunes mesmerizingly stretching as far as the eye can see, this exceptional desert landscape is sure to take your breath away.
Sossusvlei Attractions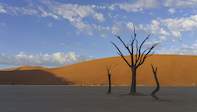 ©Shem Compion
Seek adventure at Deadvlei - a surreal area with mysterious red clay pans and iconic camel thorn trees, the Namib Desert promises to be an unforgettable experience.
From captivating wildlife encounters with gemsbok, springbok and ostriches that visit during early mornings and evenings to off-roading adventures and quadbiking through shifting sand dunes, there's something absolutely magical about the Namib Desert that keeps visitors coming back for more!
Read more about Namib Desert attractions.