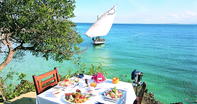 Here you can enjoy a beach holidays and exotic island-hopping excursions off the coast of Mozambique. From just plain relaxation on the beach to water sports, sailing and fishing... the options are endless.
Island Romance - Don't let a honeymoon be the only reason for visiting this Indian Ocean paradise. Make up an excuse, be in love. Pack your bags and escape to sunny Mozambique.
Best Mozambique Holiday Destinations
Bazaruto Island Lodges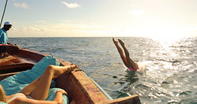 The
tropical paradise islands
of the
Bazaruto Archipelago
in Mozambique is a pristine destination that serves as a wonderful holiday experience for honeymooners, families or the traveler who simply wants to escape and relax. The six islands of the Bazaruto Archipelago are adorned with scenic, sandy white beaches that leads into clear, azure waters where guests can enjoy a variety of activities such as snorkeling and scuba diving.
Quirimbas Private Island Experience
Quirimbas Archipelago
promises a delightful and refreshing exploration to guests. It consists of 32 islands, 11 of which constitutes the Quirimbas National Park. The region has some of the most untouched dive sites in the world, offering divers an unrivalled experience. Go sailing in traditional dhows, enjoy fishing and water sports, or just relax on the beach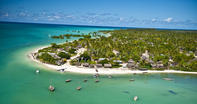 Inhambane. Luxury Isolation and Exotic Chalets
The coastal town of Inhambane is often a stopover for those travelling to the Bazaruto islands. Inhambane has a rich cultural history and is close to many famous dive sites. Visit a local Cashew plantation, or explore the city which is known for its colonial architecture.
Perhaps bargain for goods at the local market or arrange diving and fishing expeditions. or enjoy a wide variety of water sports. Inhambane Lodges in Mozambique enjoy a stunning location. Stay in a chalet on stilts in the shallow lagoon, or watch an amazing sunsets from your beach resort.
Vilanculos Beach Lodges
The town of
Vilankulo
has many sandy beaches and you will enjoy many holiday activities such as horse riding along the beach or quad biking. Dhow sailing, water sports, snorkeling and diving excursions into the Bazaruto Archipelago are popular activities. You can also make time to visit to the Vilanculos Wildlife Sanctuary.