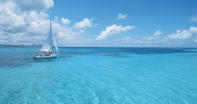 The Bazaruto Archipelago lies 25km off the coast of Mozambique and is considered a true paradise of the Indian Ocean.
This beautiful archipelago comprises of many islands surrounded by pristine beaches and clear turquoise waters. The seclusion of the Bazaruto Archipelago makes the perfect island getaway to relax for romantic couples and families.
Situated in a Marine Wildlife conservation area, there is ample opportunity to spot dolphin pods and migrating whales off the coast. Water sports are a prime activity in the Bazaruto Archipelago with snorkelling scuba diving, fishing and water skiing. The life-rich waters surrounding the islands contain beautiful coral reefs that are home to some of the rarest and most beautiful fish in the ocean.
Enjoy a romantic sunset cruise on a traditional dhow or freshly prepared seafood cuisine on the beach. Take a trip to the beautiful Bazaruto Archipelago in Mozambique and discover a world of untouched beauty and relaxation.
See Bazaruto Archipelago Lodges.in Mozambique.