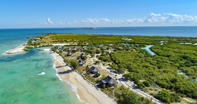 Nampula is located in Nampula Province and is the third largest city in Mozambique. The coastline 150 km away is basically untouched with small villages and Nampula beach lodges dotted here and there. This is a part of the country which is quite off the beaten track.
There are a few tourist attractions in Nampula so if you are interested in the culture and the history you must include a visit to Ilha do Mozambique (Mozambique Island).
This island in Mozambique has a small population and the Portuguese built a naval base here in 1507. The town is made out of coral rock and most of it is still standing today.
Fort Sao Sebastiao is on the northern part of the island. This was built from limestone and imported from Lisbon. Other interesting sites in Nampula include the dilapidated but still running hospital, built in 1877 and of course the Chapel of Nossa Senhora de Baluarte, built in 1522. Nampula accommodations are at luxury Mozambique lodges on the beach.
See below for Nampula lodges in Mozambique.