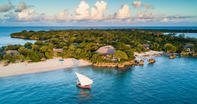 The Quirimbas Archipelago Marine National Park is situated along the northeast coast of Mozambique and stretches for 110km (68 miles). This National Park in Mozambique comprises an area of 750,639 hectares (1,854,870 acres) consisting of the mainland and 11 islands including Ibo Island, Matemo Island, Quilalea Island, Medjumbe Island, Quirimba Island and Vamizi Island.
Guests visiting this exclusive beach destination in Mozambique can look forward to exciting watersport activities including diving, snorkeling, kayaking, dhow boat trips and deep sea fishing. The Quirimbas Arichipelago Marine National Park also has some of the best beaches to just sit back and relax with a cocktail taking in the magical island scenery.
The 11 islands in the Quirimbas conservation area has an amazingly rich and diverse aquatic population with incredible coral reefs and various fish species as well as whales, rays, sea turtles and dolphins. For cultural fundis the Stone Town of Ibo Island would be an interesting look into the history of the area with its Indian, Arabian and European influences.
The Quirimbas Archipelago Marine National Park on the northeast coast of Mozambique can be accessed by flight to Pemba and from there either a small aircraft flight or exciting boat transfer to one of the islands. Accommodation is offered in high end luxury beach resort hotels.
For more information on accommodation in the Quirimbas Archipelago Marine National Park, please refer to our personal selection of top-end Quirimbas Archipelago accommodation resorts below.