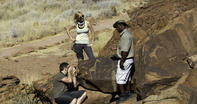 Visit the ancient Bushmen rock art displays at Twyfelfontein and enjoy tracking the desert-adapted wildlife of Damaraland in Namibia. The unique rock formations in this region can be admired during guided safari activities.
The spellbinding beauty of Damaraland in Namibia is a must-see for any traveller looking for an unforgettable adventure. With its diverse terrain, you are never short of things to do!
Visit the majestic Brandberg mountain, which soars over 2,000 meters above sea level, to see ancient petroglyphs carved into its face by San hunter-gatherers.
Go game viewing at Twyfelfontein and marvel at its collection of large animals such as desert-adapted rhinos and elephants and many others. For those who want to learn more about traditional cultures, there are plenty of Himba villages where you can gain insight into their fascinating way of life!
Learn more things to do in Damaraland