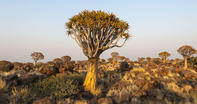 Read more about the highlights of a Namibia safari in this Namibian Kalahari guide.
This region is home to red sand dunes and the unique Quiver Trees near Keetmanshoop, as well as the Namibian border of the Kgalagadi Transfrontier Park.
Exploring Namibia's Kalahari Desert is an incredibly exciting and rewarding experience!
Witness the stark yet beautiful landscapes and get up close to wildlife species such as meerkats, springboks, oryxes, and gemsbok or take a Kalahari safari tour and discover new ecosystems.
Learn more about things to do at Namibian Kalahari