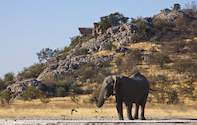 Dolomite Camp in northwestern Etosha National Park is set on top of a ride with sensational views as far as the eye can see! Watch a variety of wildlife congregate at the waterhole.
Why We Love it and You Will Too
Dolomite Camp boasts stunning views of Dolomietpunt Waterhole where animals gather
Guided morning, afternoon and night drives in an exclusive part of Etosha National Park
See Black-faced impala, Hartmann's mountain zebra and Black rhino
Explore the 10 waterholes surrounding Dolomite Camp
Relax at the restaurants, bar and infinity pool with its spectacular views
Your Dolomite Camp Experience
If you're looking for a place to get away from it all, Dolomite Camp is the perfect place. It's situated in the dolomite outcrops of northwestern Etosha National Park, and the chalets feature large wooden retractable doors that allow for spectacular panoramic views of the surrounding landscape.
Dolomite Camp is perched on top of a little hill, which means that when you're inside your tent or communal area, you'll have an amazing view of the African plains - and any animals who happen to wander by! There's also an infinity swimming pool where you can relax after a long day exploring Etosha National Park.
Dolomite Camp in Etosha National Park has 2 dining pavilions and a nice bar with comfy seating. The restaurant serves a small menu with a buffet breakfast and a small selection of lunch and dinner options. All are decorated with natural materials such as thatched roofs and traditional Namibian art.
A rim flow pool, curio shop, and viewing deck overlooking a prolific waterhole provide entertainment during the day; at night, relax with friends at the bar area or enjoy one of their delicious cocktails!
Chalets are located on either side of a long pathway along the ridge, some facing east, over the acacia-studded plain and some facing the waterhole below to the west. Both views offer wildlife sightings from elephants and rhinos to lions and antelope.