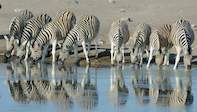 Visit the largest game park in Namibia, Etosha National Park and partake in numerous game viewing activities which boast a large collection of wildlife and bird species.
Etosha safari lodges offer the best wildlife and game viewing activities in Namibia. Waterholes attract many different animals that all congregate around the shared water source.
An Etosha National Park safari is an absolute must-do while in Namibia - it's truly a wilderness experience like no other! Etosha National Park offers unrivalled Big 5 game viewing and stunning landscapes to explore.
Drive around the park's lake-filled white landscapes, exploring its numerous waterholes where you have a good chance of spotting lions, elephants, giraffes, rhinos and countless other African species in their natural habitats.
Wonderful Wildlife of Etosha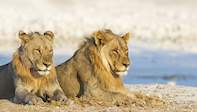 ©Peter Delaney
Etosha safari tours take you closer than ever before to some of Africa's most iconic wildlife and are customized specifically for your needs. Wake up early with sunrise game drives and enjoy dinner under the starry night sky for an unforgettable experience that will forever stay close to your heart!