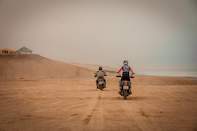 © Eric Ward
Various outdoor adventure companies in Namibia offer the great experience of sandboarding on the world's highest dunes.
Sandboarding on Dune 7 near Swakopmund
You will be fetched from your Swakopmund accommodation on the Atlantic coast and taken to the spectacular Dune 7, one of the many sand dunes of the Namib. The drive towards the dunes is filled with spectacular scenery and keeps you excited.
When you arrive you have the choice between
two styles of sandboarding
: "Stand up" and "lie down". "Stand up" is done with typical snowboard equipment. If you choose this technique you will not only be able to surf some dunes but also be a snowboard pro anywhere else in the world. The huge advantage of sandboarding in Namibia is that you won't freeze or hurt yourself when falling.

The second version is "lie down" sandboarding where a specially polished board is used. Speed down the dunes headfirst! Fast boarders will do this in no less than 80 kilometres per hour. Bring lots of sun block, water and be ready to climb up before sliding down! Walking up those sand giants may be exhausting but absolutely rewarding.
This is an ultimate Namibian adventure activity unrivalled in any other place of the world. This spectacular dune and ocean setting is unique and Swakopmund has even more fun and outdoor adventure sports to offer.
Quad Biking in Swakopmund

Another
desert adventure activity in Namibia
is quad biking. A 35 kilometre long route is set in the dunes of Swakopmund. Nature conservation is taken seriously by the outdoor companies who make sure that the rare desert animals and plant species still are protected. Through quad biking you gain access to areas in Swakopmund that normally can't be reached, not even by 4x4.
The choice is between
two types of quad bikes
: There's the 160cc semi automatic and the 200cc manual bike. Experienced guides will train you and give you a great action-packed day. There is also a Sandboard-Quad bike combination available.
Skydiving near Swakopmund

For all those, who are looking for a real adrenaline rush, skydiving in Swakopmund, Namibia, is definitely the right adventure activity. There are two
skydiving clubs in Swakopmund
. If you are already a pro then a jump will be organized for you. If you are a novice you first have to complete a training session. You can decide if you want to jump alone and being bound to the airplane with a static line which automatically opens you parachute or if you want to do a tandem jump.
In the latter option your instructor is opening your parachute so that you can fully enjoy the spectacular Namibian scenery below you. Where else in the world have you such
incredible views - The oldest sand dunes
of the world meet the cool and rough waters of the Atlantic Ocean. This is an absolutely amazing sight! Don't forget to have a video shot of your free fall out of 3000ft to show your friends when you tell them about your thrilling adventure holiday in Namibia!
Other Activities near Swakopmund
The coastal town of Swakopmund has much more adventure and activities on offer. Try some
land yachting, paragliding, windsurfing or angling
. Visit the Cape Cross seal colony, go on a dolphin cruise in nearby Walvis Bay or, if you haven't been there, head off for an adventure to Sossusvlei deep in the Namib Desert.