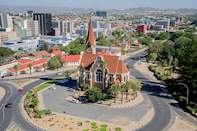 Windhoek is in the middle of Namibia, quite the perfect place to have a capital city and ideal for planning a Namibia holiday by road, air or train
Windhoek, Namibia (Central)
Highlights: German-colonial architecture and historical buildings (Alte Feste, Christuskirche), National Botanical Gardens and Zoo Park, museums and galleries, Daan Viljoen Game Park
Activities: great shopping and strolling in Windhoek, game viewing in Daan Viljoen Game Park, book a Township Tour or go horse riding, enjoy scenic flights or the café culture and Windhoek beer, purchase wonderful local arts and crafts
There are lots of attractive green areas in the centre of Windhoek flanked by both modern buildings and
fine German-colonial architecture
. This city in Namibia is clean and orderly and the pace of life is busy but not overwhelming.
Located in a picturesque valley
in the heart of Namibia
and surrounded by mountains, Windhoek makes an excellent stopover. This city in Namibia is small yet spacious with a European feel and African flavour - a melting pot of different cultures. You can take interesting strolls along the avenues, refresh at numerous sidewalk cafés and find good shopping.
The
Windhoek brewing industry is famous
, so an ice cold beer is a great idea whilst tucking into traditional German cuisine or you can try local foods on a township tour. There is plenty to do in and around Windhoek, Namibia, from historic meanders to game viewing and wonderful star gazing or horse trails, caving adventures and scenic flights.
Windhoek Activities
Stroll around and visit historical buildings, gardens and museums in Windhoek
Go on a Windhoek Township Tour, Brewery Tour and other Windhoek excursions
Visit the Daan Viljoen Game Park
Enjoy Horse riding, hot mineral springs and scenic flights

Click here for more info on activities in Windhoek, Namibia.