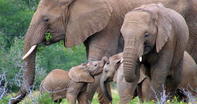 Travellers coming to Africa often have concerns about malaria. Luckily, there are plenty of malaria-free safaris available that are suitable for the whole family and are focused on you having a stress-free safari in the wild.
Everyone is naturally worried about their health when venturing into uninhabited territories in the world where nature is the ruling force. In Africa, malaria is one of the biggest concerns for travellers. This is a red flag, not only for adults, but especially for those travelling with children. While many are happy to take prophylactics or anti-malaria medication, many do not feel comfortable dispensing it to their little ones.
Fortunately, malaria-free safaris in Africa are possible today. There are many amazing safaris available within South Africa that focus on offering the African holiday experience for the whole family.
Unlike many wilderness parks in Africa, South Africa boasts the most malaria-free safari options. Malaria-free safaris in Africa mainly occur within the Southern hemisphere of South Africa, and focus on activities for the whole family with special tours and trips tailored just for children. This also means the safari is safe for expectant mothers who still long for adventure out in the wild as she carries on with her own special journey.
There are many amazing wildlife reserves that are focused on making memories and educating the whole family about Africa's rich biodiversity and natural beauty. So don't hesitate to book that malaria-free safari family holiday to Africa today, these amazing accommodations are more than ready to ensure your wellbeing and safety throughout your stay.