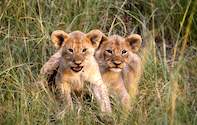 Leave the noisy city behind and enter the tranquility of Mabula Game Lodge, a peaceful malaria-free safari lodge where you can experience a traditional outdoor experience.
Enjoy the luxurious thatched chalets at the lodge
Go on an informative bush walk with experienced guides
This Limpopo game lodge boasts excellent conference facilities
Mabula Game Lodge is only a quick 2 hour drive from Johannesburg
Mabula Game Lodge is a malaria-free safari lodge, which is set against a magnificent backdrop of lush, green mountainous vegetation and is located in one of South Africa's finest private game reserves.
Only 2 short hours drive north of Johannesburg lays the African wonder that is Mabula Private Game Reserve. This 12 000 hectare malaria-free reserve is home to an abundance of wildlife.
Accommodation at this malaria-free safari lodge is very exclusive and guests can stay in one of the Lodge Rooms or the Mabula Villa.
Boasting exciting activites and wonderful facilities, Mabula Game Lodge is definitely the place to stay. Guests who are forced to mix business with pleasure can take heart; Limpopo game lodge does have excellent conference facilities available.