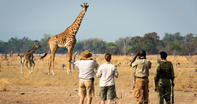 A Walking Safari in Africa offers the ultimate experience in exploring Africa's untamed wilderness by foot. Walk along beaten trail through the African bushveld under the crimson skies at dusk, while coming face to face with a big game wildlife.
Explore the African bushveld like the explorers of old, by going on a walking safari in Africa. A well-trained guide will always accompany you personally or in a small group of other like-minded explorers as you safely discover the bushveld by foot. A walking safari is by far one of the most daring forms of exploration as you are faced with nothing else but your wit and bravery against the tumult of Mother Nature.
Walking safaris in Africa are not only an exhilarating way of discovering the bushveld, but also a highly educational one. Safari walks also include a hands-on tracking lesson on how to know if there is a lion pride or elephant nearby and what to do should you come face-to-face with them. This is essential, as you will be made aware that you are trespassing on their territory and you can always expect the unexpected in the bushveld.
Learn how to recognise important plant life in the area that could save your life out in the wild, while learning more about the area's amazing biodiversity. Many walking safaris in Africa do come with a game drive offering, allowing you to also get the full scope of wildlife safari viewing opportunities.
Dare to come face to face with a drinking wildebeest, grazing buffalo or lounging leopard in the treetops as you safely brave the open plains on a walking safari. Discover the natural rhythm of life in the wild, as you discover a new world on foot through the sweeping savannah.