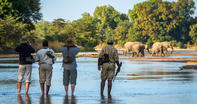 The South Luangwa National Park in Zambia is regarded as one of the world's most prolific game areas. The 9059 square kilometre reserve, with its oxbow lagoons, has one of the highest concentrations of wildlife.
South Luangwa National Park was the forerunner for walking safaris in Zambia. The reserve boasts 60 different animal species and over 400 bird types. The Luangwa River is one of the most intact water systems in Africa, sustaining both fauna and flora in this wast untouched wilderness.

The South Luangwa region is defined by distinct seasonal changes. The dry winter season, from the middle of April to October is the best time to visit while on a Zambia safari. The concentration of wildlife is at its peak. The days are sunny and the evenings very temperate. The hottest month of the year is October. The summer rains from November turn the arid winter landscape into a lush green vista. In late March the migrant birds start to arrive, however many lodges close in the wet season as access is impossible.

The South Luangwa National Park is accessible by scheduled or chartered flights as well as road transfers. In the rainy season lodges steadily close as access becomes more difficult. A Zambia safari trip to South Luangwa National Park provides a unique insight into the true untouched wilderness of Africa.